Philanthropy Live!
Sponsor:
The Redwoods Group
Make your NAYDO experience even more meaningful by giving back to the local community in Indianapolis!
Some reminders applicable to all projects:
Advance sign-up required; transportation is provided
Start time listed is the time to check-in at the Bus Check-In station (next to Room 108) before boarding the bus (near room 109).
End time listed is the time your bus will arrive back at the JW Marriott.
Closed toe shoes (required for ALL projects).
Dress is very casual.
A Philanthropy Live! Team member will be in touch by email prior to the conference with more project details.
Philanthropy Live! Volunteers Appreciation Reception
Sponsor: The Redwoods Group
Wednesday, April 4
4:15 - 5:30 pm
Open to all NAYDO attendees who participate in one of the projects, come celebrate nine years of Philanthropy Live! with a reception recognizing the 2019 Philanthropy Live! volunteers. The Redwoods Group is the founding sponsor of Philanthropy Live! and has been a partner with NAYDO since the program's inception in 2011.
Projects 1 & 2: Laurelwood Program Site of the Intercollegiate YMCA "Serving the Underserved"

Wednesday, April 3
Project 1: 11:15 am - 3:15 pm (includes lunch)
Project 2: 1:00 pm - 3:15 pm (exclusively for any attendee under 40, NAYDO Young Professionals and Alumni and Young VIP Board Members)
The Intercollegiate YMCA partners with the Indianapolis Housing Agency throughout the year to provide free after school programs in four public housing apartment complexes around Indianapolis, one of which is Laurelwood. These programs are run by college students from several local universities. The YMCA has provided community support through the after school program and family nights, hosted neighborhood clean-up days, been active partners for community events and led service projects with various college students and groups from other organizations.
Conference attendees who sign up for projects 1 or 2 will have the opportunity to meet some of the Y's community partners as well as engage in a neighborhood beautification service project that will enhance various living spaces for Laurelwood residents.
Unable to participate in this project but want to help? The Laurelwood Apartments serves 132 units and houses a donation center for its residents. Drop off any of the following items at the Host Y Hospitality Center on Wednesday, Thursday or before lunch on Friday:
Toothpaste, tooth brushes, dental floss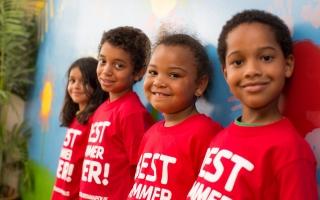 Project 3:
Indy Urban Acres "Gardening for Good"
Wednesday, April 3
12:30 pm - 3:00 pm
Indy Urban Acres, a project of the Indianapolis Parks Foundation, is a collection of four organic farms used to empower and educate people by providing equitable access to free, high quality produce. Since 2011, Indy Urban Acres has grown into a multi-disciplinary farm that works to inspire transformational change within Indy's food system by providing food for low-income families, educating thousands of youth through tours and farm-to-plate workshops, teaching teens valuable job skills and providing community engagement to thousands of volunteers and groups.
Philanthropy Live! volunteers will participate in a variety of projects ranging from ground prep for the upcoming planting season to property beautification and more.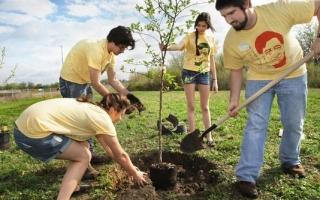 Project 4: Gleaners Food Bank "Feeding the Hungry"
Wednesday, April 3
12:30 pm- 3:30 pm
Gleaners is leading the fight against hunger in Indiana by distributing food to more than 250 partner agencies in 21 counties through food pantries, soup kitchens and shelters. Philanthropy Live! participants will directly service those struggling with hunger by supporting these Gleaners BackSack programs: Weekend Food for Kids, School-Based Pantry, C.A.R.E. Mobile Pantry and Community Cupboard.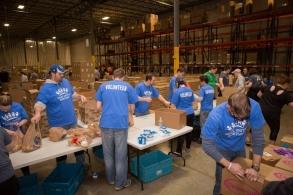 Projects 5: Hoosier Veterans Assistance Foundation (HVAF) "Addressing Homelessness"
12:30 pm - 3:15 pm
Wednesday, April 3

Hoosier Veterans Assistance Foundation (HVAF) helps homeless veterans return to self-sufficiency and engages at-risk veterans to prevent them from becoming homeless by providing supportive housing, case management, food, hygiene and clothing, as well as other essential services. Last year, 2,260 veterans had a safe place to sleep and 1,200 family members, including 554 children, received counseling and guidance to help them become self-sufficient. In partnership with the United Way of Central Indiana, U.S. Department of Veterans Affairs and community organizations, HVAF works to end homelessness, one veteran at a time. Philanthropy Live! volunteers will hear about the success they are achieving in Indy and will work on projects such as painting, landscaping, cleaning, sorting food, clothes and other items.