Philanthropy Live!
Sponsor:
The Redwoods Group
Make your NAYDO experience even more meaningful by giving back to the San Diego community! The 7th year of Philanthropy Live! marks a return to Southern California where it was first created by Gail Glasser as part of NAYDO 2011 in Anaheim.
2017 Projects
---
Applicable to ALL Projects:
Advance Sign-up required
Transportation is provided; check in at the Rosa Room at the Marriott Marquis before heading to the bus by the lower waterfall in front of the Marriott Marquis entrance.
Start time listed is the time to check-in; end time listed is time your bus will arrive back at the Marriott.
Closed toe shoes (required for ALL projects); a hat, sunscreen and a water bottle required for outdoor projects.
Dress is very casual.
A Philanthropy Live! Team member will be in touch by email prior to the conference with more project details.
---
Philanthropy Live! Volunteers Appreciation Reception
Sponsored by The Redwoods Group
Thursday, April 27
5:00 – 6:30 pm

Open to all NAYDO attendees who donate items for the Migrant Youth Home or participate in one of the projects. Come celebrate the seventh year of Philanthropy Live! with a reception recognizing the Philanthropy Live! volunteers and YMCA community partners. Meet the representatives of the 2017 Philanthropy Live! project sites and learn more about their inspiring work in the San Diego community. Enjoy complimentary appetizers, beverages and a cash bar before heading to the Eagle Awards Banquet.
A Project for Everyone
Supplies for Migrant Youth in Tijuana
The YMCA of Mexico, supported by local US and Canadian YMCAs, has operated a network of YMCA Homes that provide safe shelter, food, psychological support, legal aid and family reunification services to migrant youth. With the current partnership between two NAYDO Member YMCAs – the YMCA of San Diego County and the Tijuana YMCA, we are requesting you bring items such as travel size shampoo, soap, tooth brushes, toothpaste, etc. to donate to the YMCA Home for Migrant Youth in Tijuana. (To learn more about this important program, see
YMCA Impact Tour D
and consider signing up to actually experience it!)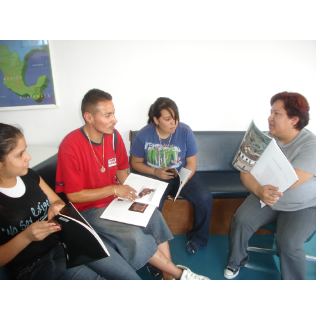 Projects 1 & 2: YMCA Camp Surf
Wednesday, April 26
Project 1 (AM shift): 8:30 am - 1:00 pm (includes lunch)
Project 2 (PM shift): 11:30 am - 4:00 pm (includes lunch)

Getting kids and families unplugged to share outdoor activities is a big part of camp programs. With a focus on providing healthy outdoor experiences while promoting friendships and a sustainable environment, YMCA Camp Surf is no exception - an overnight camp located on the sand right at the Pacific Ocean! Over 12,000 participants attend education, recreation, or summer camp programs there every year. Donors, volunteers, and teen leadership groups are responsible for funding or building most of the program areas at camp. Archery, the waterfront, low ropes activities, the teaching garden, and both GaGa pits were built by volunteers. The climbing tower, wetsuits for campers to use, basketball area and crafts grass were funded by donations - including over $15,000 donated by summer campers over the past 5 summers!

Philanthropy Live! participants will join staff in building a new playground area for younger campers and also building an ADA accessible boardwalk from the center of camp to the beach for kids of all ages and abilities. Three donated lifeguard towers will be cleaned, prepped, and painted in bright Y-brand colors. These will provide the framework for building walls, ladders, slides, bridges, and activities for kids to play and explore.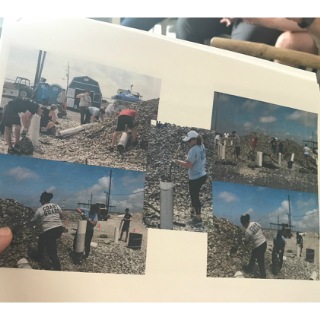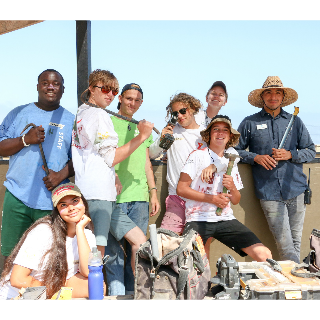 Project 3: International Rescue Committee Garden
Wednesday, April 26
8:30 am - 12:00 pm

The International Rescue Committee (IRC) provides opportunities for thousands of refugees, victims of human trafficking, survivors of torture, and other immigrants to thrive in America. These individuals have survived against incredible odds. The IRC works with government entities, civil society actors, and local volunteers to help them translate their past experiences into assets that are valuable to their new communities.

The New Roots Community Farm is a 2.3 acre urban farm that provides growing spaces for 85 IRC families in the heart of the City Heights neighborhood. These families have the opportunity to grow crops and sell them at local farmer's markets to provide for their families. Philanthropy Live! participants will lend support in getting the garden beds ready for spring planting, clear out weeds, and assist refugees in tending to their personal garden beds.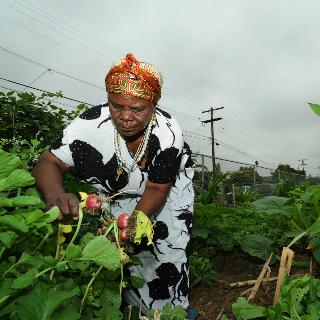 Project 4: Father Joe's Villages
Wednesday, April 26
10:00 am - 2:00 pm (includes snacks)

As San Diego's largest homeless services provider, Father Joe's Villages offers a wide variety of housing and services. They prepare up to 3,000 meals and provide a continuum of care to nearly 1,500 individuals every day—from infants and adolescents to adults and seniors. This includes over 150 children and over 200 military veterans. Their primary goal is to transform lives and end the cycle of homelessness. To this end, Father Joe's Villages provides housing, rental assistance, healthcare, food, clothing, education, job training, mental health, addiction treatment and child development in an internationally modeled "one-stop-shop" approach.

Philanthropy Live! participants will have the opportunity to give back to the 900 men, women, and children living at the Village each day. They will help with the 3,000 meals that are served daily. From meal prepping to serving lunch and cleaning up the area, volunteers will help Father Joe's Village provide the necessary duties during their lunch time meals.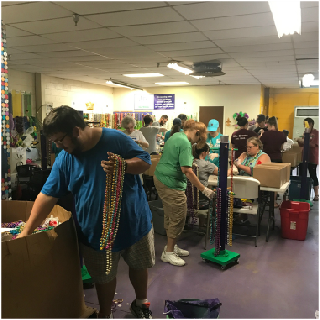 Project 5: Take Back the Alley
(Exclusively for NAYDO Young Professionals Class of 2017 and Alumni)
Wednesday, April 26
12:00 - 4:00 pm (eat lunch before you arrive)
The heart of San Diego is not made of palm trees and beaches, but rather a vibrant urban core showcasing over 50 spoken languages, emerging young entrepreneurship and dynamic diversity. The El Cajon Boulevard Business Improvement Association organizes volunteers, local residents, business owners, and artists to converge in the alleyways to take part in their transformation by painting murals, installing signage, marking pathways, installing lights, weeding and planting and a variety of other designs as determined by neighborhood residents. Philanthropy Live! participants will make their mark on alleyways and new storefronts with their own collaborative creativity through murals, place making, and beautification. Afterwards, enjoy local food and drink from some of North Park San Diego's trendy urban craft eateries.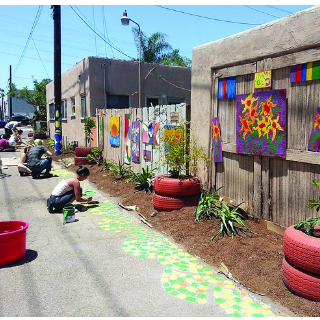 Project 6: YMCA Turning Point & Tommie's Place
Wednesday, April 26
1:30 - 4:00 pm

YMCA Youth & Family Services (YFS) is one of the largest social services departments within the Y movement. Founded in 1970, they have been addressing San Diego County's most pressing needs through behavioral health and family support, transitional housing for young adults, and youth development programs. YFS is focused on bringing about meaningful and lasting change in their youth and families by ensuring they have a safe place to live, a reliable support system, a sense of direction and connections to resources needed to flourish.

Philanthropy Live! participants will have the opportunity to experience life at Turning Point or Tommie's Place, two of the YFS transitional living programs serving homeless young adults (ages 16-21) in their journey to self-sufficiency. Volunteers will assist with gardening, painting and beautifying the apartments, creating a more warm and welcoming home for the young people living there. They will work alongside current residents, getting the chance to see their impact firsthand.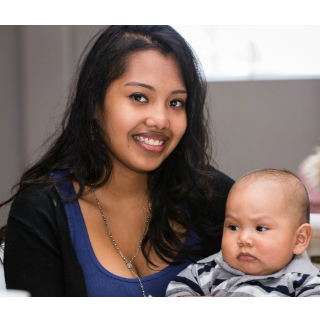 2014 Philanthropy Live! Recap
With continued support from The Redwoods Group and NetVentures Corporations, the 2014 NAYDO Conference included community service projects at the San Antonio Food Bank (Mobile Food Pantry, Community Garden, Kid's Cafe, along with sorting and packing), a Mission Reach Ecosystem Restoration and Recreation Project and a Y Early Learning Center-Haven for Hope Children's Celebration.
2013 Philanthropy Live! Recap
With inspiration and amazing support from The Redwoods Group and NetVentures Corporation, the 2013 NAYDO Conference offered several choices for community service projects in Vancouver, including Dress for Success, Gordon Neighborhood House and the Surrey Wrap Project.
2012 Philanthropy Live! Recap
With the support from The Redwoods Group, the 2012 NAYDO Conference offered three choices for community service projects in the Pittsburgh area. View "Philanthropy Live!" at
Global Links
,
Hazelwood YMCA
, and
Auberle
in
this video
.